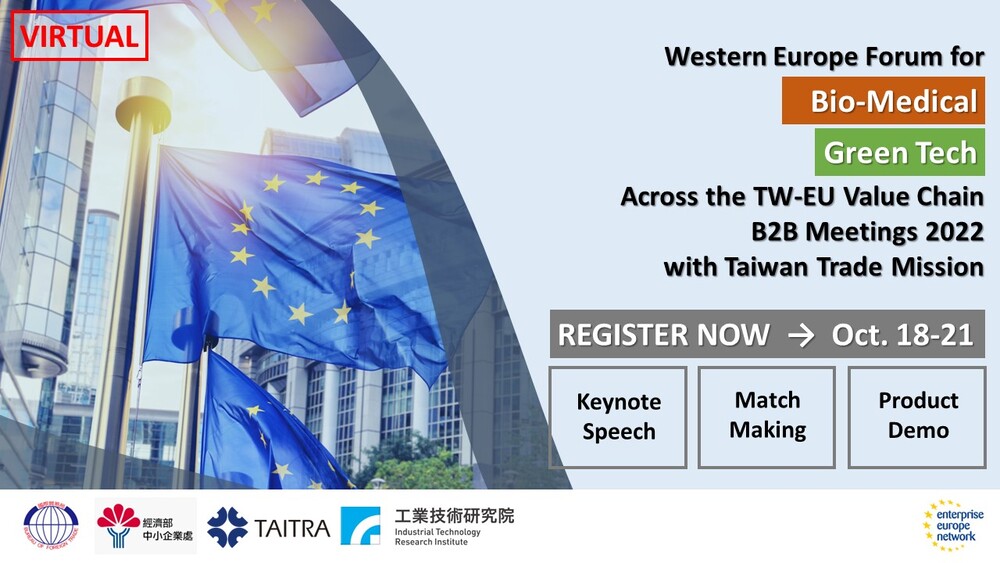 Virtuele matchmaking en Forum Taiwan Bio-Medical en Green tech
Wilt u zakendoen in Taiwan? En wilt u nieuwe zakelijke contacten opdoen op het gebied van Bio-Medical en Green Tech? Neem dan 18 t/m 22 oktober 2022 deel aan de virtuele Western Europe B2B Meetings and Forum 2022 – Taiwan Trade Mission
Het evenement en de matchmaking zijn bedoeld voor Taiwanese en Europese organisaties (inkopers, leveranciers), investeerders, medical/green sector stakeholders organisaties en onderzoeksorganisaties (R&D).
Voor wie?
Dit evenement is vooral interessant voor organisaties die actief zijn in de onderstaande gebieden:
Green Technology
EVs, bicycle & accessories, Waste management, Recycling, Circular economy, Water management, Waste water treatment, Hydropower, Wind power, Solar and photovoltaic, Biomass, Biofuels, Heat pumps, Geothermal energy, Energy storage, etc.
Health
Bio-medicine, Medical devices and equipment, Personal protective equipment, Orthopedics, Dentistry,  Medical furniture, Diagnostics, Fitness, Hospital, etc.
Deelname en kosten
Meld u aan voor de matchmaking en het forum. Dit kan tot en met 21 oktober 2022. Deelname is gratis.
Heeft u vragen over de virtuele matchmaking? Neem dan contact op met EEN-adviseur Bryan Raghoe.