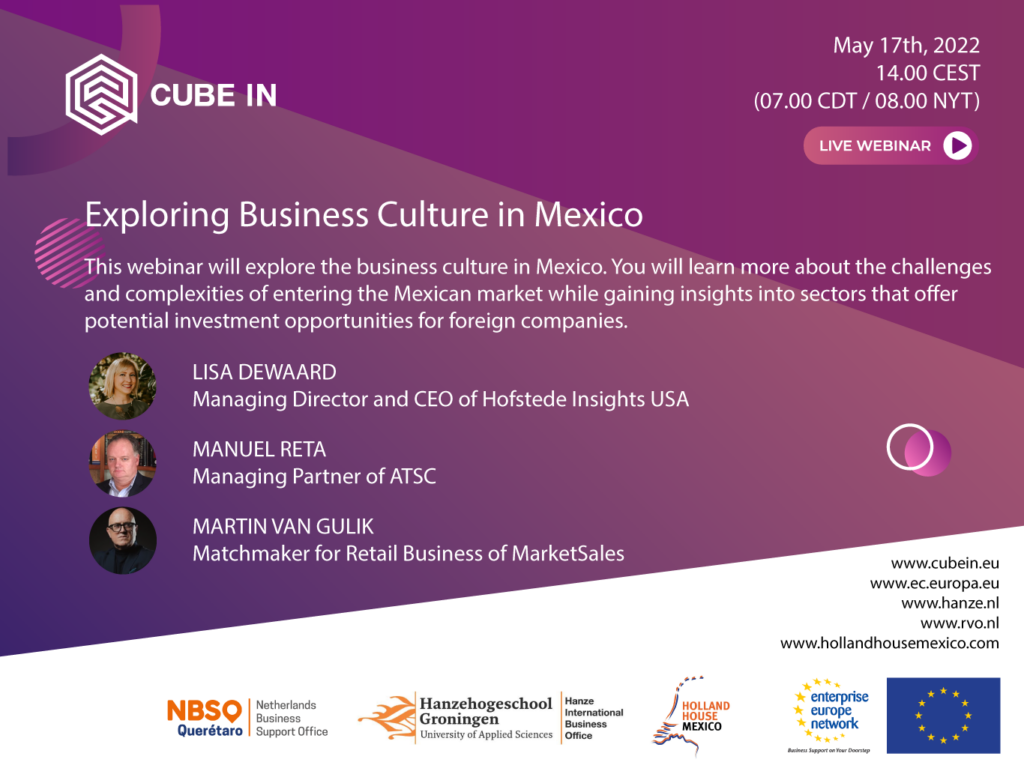 Webinar - Introductie in het zakendoen met Mexico
Op 17 mei organiseert CubeIn in samenwerking met de Hanzehogeschool Groningen en het Enterprise Europe Network een gratis webinar met als onderwerp de Zakencultuur in Mexico. 
Tijdens het Zoom-webinar dat begint om 14.00 uur zullen onze experts de fijne kneepjes van de bedrijfscultuur in Mexico met u verkennen. Leer tijdens het webinar meer over de uitdagingen en complexiteit van het betreden van de Mexicaanse markt en verkrijg tegelijkertijd  inzicht in sectoren die potentiële investeringsmogelijkheden bieden voor buitenlandse bedrijven.
Onze gastsprekers zijn:
Lisa Dewaard, Managing Director and CEO of Hofstede Insights USA,
Manuel Reta, Managing Partner at ATSC
Martin van Gulik, CEO & Matchmaker for the Retail Sector, MarketSales. Zoom-
De doelgroep voor dit Webinar zijn primair MKB organisaties uit Nederland en Finland, maar ook andere geinteresseerden  zijn van harte welkom.
Aanmelden kan via de volgende link:
Dit evenement wordt mede georganiseerd door CubeIn, HIBO (Hanzehogeschool Groningen), Enterprise Europe Network NL, Holland House Mexico & NBSO.