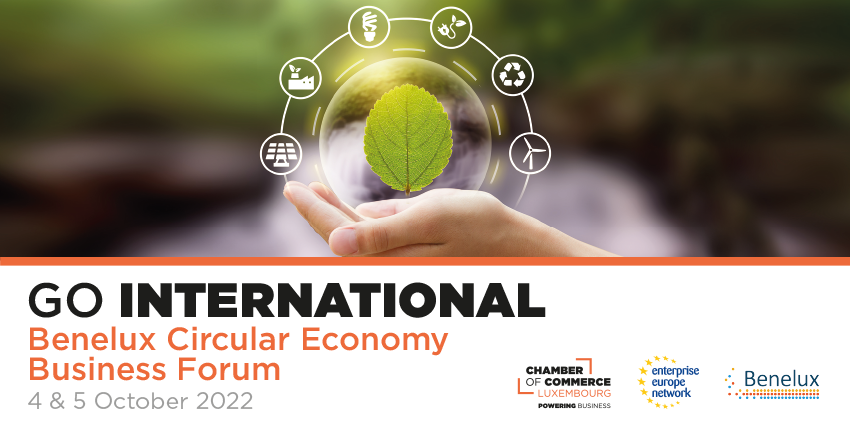 Benelux Circular Economy Forum
The Chamber of Commerce and its Enterprise Europe Network – Luxembourg, in close collaboration with the General Secretary of the Benelux Union have the pleasure to invite you to take part in the Benelux Circular Economy Business Forum, which will take place on 4-5 October 2022 in Luxembourg.
The Benelux Union is a single market laboratory . Indeed, it is considered to be a precursor in economic cooperation, and one of the most successful in Europe. Benelux has frequently been used as an example for strengthening European ties. Some areas of collaboration namely free circulation of people and economic union have been so effective that they have been applied on a European scale.
It is a great occasion to meet potential partners and the ecosystem of the Benelux and the Greater Region!
Themes : 
• Single-use plastics
• Reparability
• Waste management & shifting
• Circularity in construction and infrastructure
• Sustainable cities
Programme :
• Round table & connected studios on the major circular economy key trends in the Benelux
• Networking & Matchmaking event with companies from the Benelux and the Greater Region
• Thematic conference & workshops
• Company pitches
• Benelux Innovation Showcase: Informative stands
When?  Tuesday 4th – Wednesday 5th October 2022
Where?  In the premises of the Chamber of Commerce
In case of a withdrawal or replacement of a registered participant by another person, we thank you in advance to inform us by email before the beginning of the event.
Any withdrawal not communicated before the business forum will result in a cancellation and handling fee of EUR 100.00 per person.
By registering for this event, participants are informed and agree that :
– on the one hand, that they may appear in photographs and/or video images taken during the event; and
– that the event may be recorded (sound and video).
These photos and/or recordings are intended to be used for communication purposes relating to the event (publication and/or dissemination in the various communication media of the Chamber of Commerce; MERKUR, website, newsletter, social networks, channel on a video sharing platform etc.).